Modern Meeting Rooms & Workspaces
Aging in-room conference and meeting room functionality and old personal computing devices drive up costs and limit inclusive hybrid collaboration. ConvergeOne provides remote and on-site workers with equal and inclusive collaboration opportunities through integrated Room-Kits and IT Lifecycle Services to increase engagement, satisfaction and productivity.
Workspace audio, visual and user compute device solutions must converge to meet the strategic goals of the enterprise. Solutions require tight integration to allow remote and on-site workers the same collaborative opportunity and experience. Success comes from seamless meetings and collaboration in workspaces, meeting rooms, across integrated tools and platforms, anytime, anywhere.
schedule consultation
Activate
collaborative benefits in Meeting Rooms & Workspaces
Seamless Collaboration
At home, in meeting and conference rooms, huddle rooms and workspaces
Complex Integration
Of hardware, collaboration platforms, audio-visual, sharing and calling technologies
High-Resolution experience
Across high-definition, hi-fidelity audio-visual solutions, featuring image and conversation tracking
Modern Devices
Personalized experiences to increase engagement and productivity
Cost Managed
Flexible lifecycle cost options with CAPEX, OPEX or Device as a Service (DaaS); lower maintenance, management & repair costs
ADVISORY AND PROFESSIONAL SERVICES
Design, plan, implement, migrate, optimize and free up valuable resources
FULLY MANAGED SERVICES
Increased uptime and higher user satisfaction from proactive, AI-driven management, monitoring and MACD Services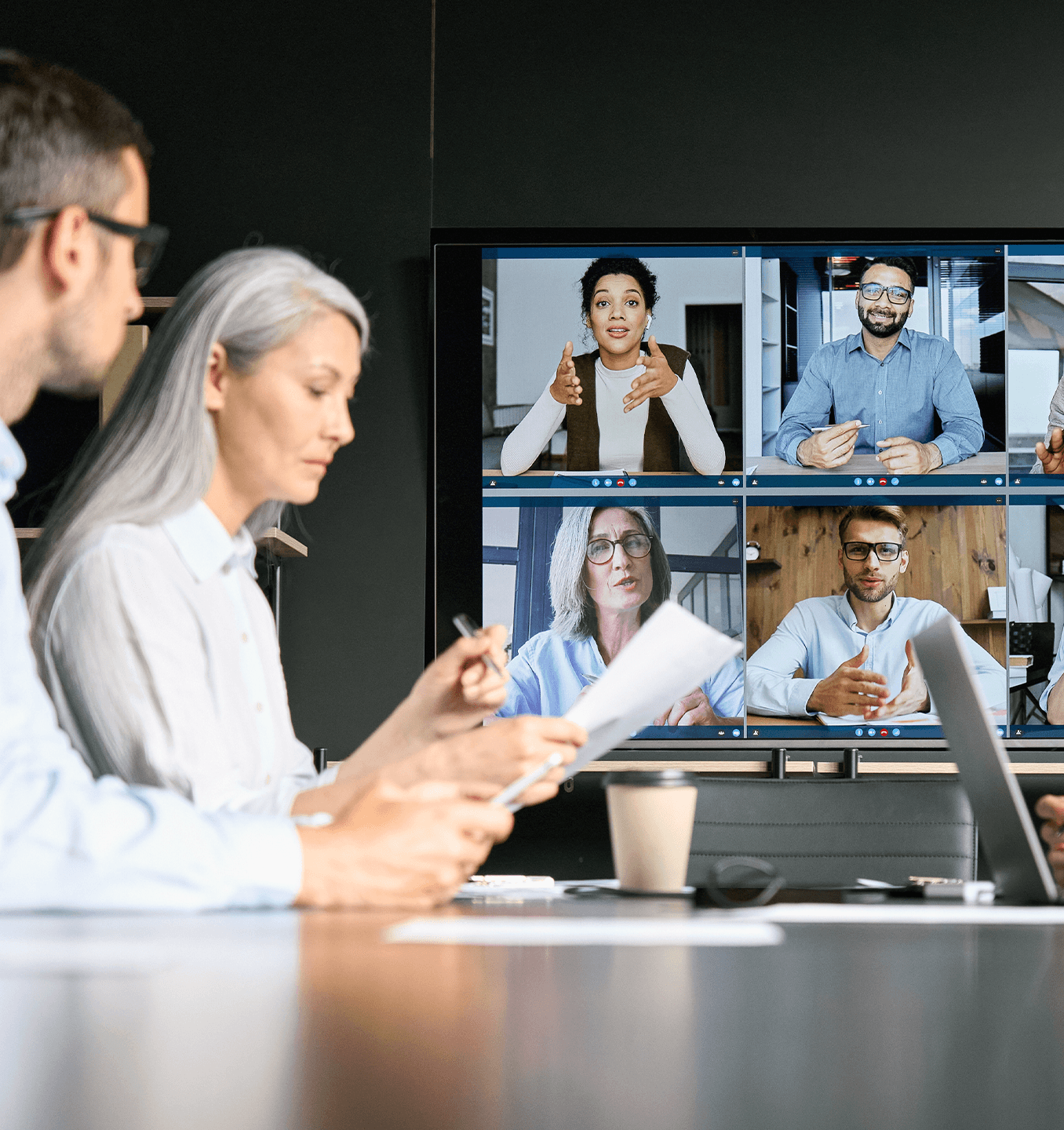 Empowering teams to reach their full potential
Energizing staff for accelerated results with seamlessly integrated meeting room and workspace solutions for the hybrid enterprise.
Room-Kits provide fully integrated and managed hi-fidelity audio-visual solutions with agnostic collaboration and sharing capabilities to promote inclusivity across meeting rooms, platforms and workspaces.
IT Lifecycle Services provide accelerated provisioning of end-user devices in both the private and public sector from procurement through asset disposition to reduce costs and enable seamless collaboration and engagement.
Solutions offer design and technical engineering, procurement and logistics, asset tagging, staging, imaging, enrollment, flexible configuration, deployment and IMAC management with post-deployment support.
Proven. Progressive. Purposeful.
Achieve inclusive collaboration with ConvergeOne Modern Meeting Rooms & Workspaces.
15% increase
in productivity and augmented user experiences from personalized end-user devices
seamless experience
with pre- and post-deployment support
optimized procurement
with DaaS, asset management and ongoing management
2.4x
cheaper than a 4-year-old PC
2.4x
faster than a 4-year-old PC
Transforming productivity in meeting rooms and workspaces
Modern Meeting Rooms & Workspaces offer new audio-visual and sharing technologies, and modern devices integrated across all tools, platforms and leading collaboration solutions.
Learn how ConvergeOne helped a school district determine the right course of action for deploying 12,000 devices to its four high schools.
Read More
Learn how to empower your teams to reach their full potential by optimizing modern workplace transformation.
Read More
Learn how ConvergeOne IT Lifecycle Services equip the enterprise for accelerated growth.
Read More